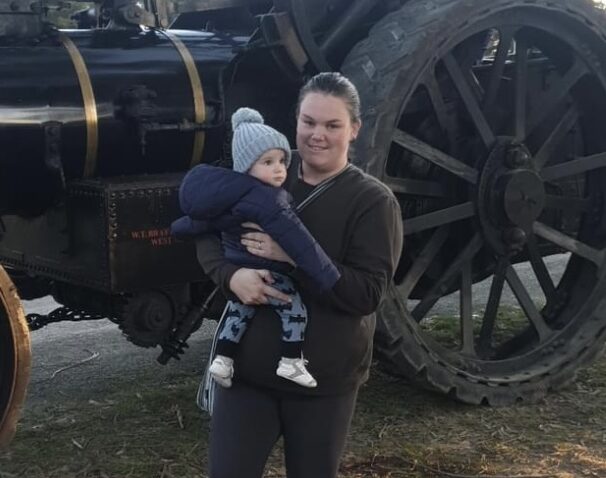 Want to find out more about Sam?
Give us a bell:
Hello, my name is Sam.  My partner Katie and I moved to Rolleston in May 2022, and we have a son Jackson together who was born in 2021. I have three older children Jordyn,   Riley, and Nadia who are all school aged, and we also have a Labrador called Maia and a cat named Vinnie.  As a family we love the outdoors, camping, exploring, kayaking, and fishing – being in nature is our happy place.
I started as a Nanny when I left high school (full time and live in), then once I had my first son I moved onto working full time with children with disabilities alongside relieving in     preschools. After having my daughter in 2012 I took a break from the industry and changed to care of the elderly and also trained in supporting people living with serious injuries.  When Jackson came along he had a tough start to life and when the time came for me to return to work he was one very unhappy little baby until I enrolled him in homebased care with Stems FROM HOME.  After seeing for myself the wonders of homebased education, I took the opportunity to return to my former passion, that is working with children, and took on the exciting new experience of being an educator myself. 
We have a large fully fenced back yard with a trampoline and a sandpit, the yard is a major highlight of our learning   environment and we try and spend as much time as we can out there.  Indoors we have a big, safe learning space with a separate eating area.
I am focused on a partial Montessori partial Reggio Emilia approach, with natural play resources, child lead play and as much hands on experience as  possible including messy play.
Outside of our learning environment we often visit and have available to us Stems FROM HOME    playgroup, Foster park, Stems outings, resource gathering and mini gym during winter months.
Stems FROM HOME Programme
Stems FROM HOME run a varied weekly programme that all of our Educators and whānau are welcome to attend. This includes;
Playgroup, Little Explorers (outdoor experiences and outings), Little Splashers swimming lesson in summer terms and Mini-Gym in winter terms. Our Playgroup sessions include regular children's yoga experiences, and also other fun visitors depending on current interests. All information is shared in our term flyer.
* First Aid/Civil Defence Kit * Cot/bed * Highchair * Car seats
* Personal linen and hand towels
* A quiet home environment, in which children are able to have really good naps (if needed). If your child has a dummy or security object for sleep time, please send these inside their bag.
* Programme planning and monthly learning stories about your child's individual learning and development, by using Educa (online portfolios).
* A change of clothes as we like to fully experience everything we do!
* A hat and sunblock in summertime. Please apply sun block to your child in the morning and I will reapply during the day.
* Gumboots and a raincoat for the rainy months
* Sufficient nappies, wipes/cream, bibs, and feeding bottles
* A healthy packed lunchbox and a water bottle
Please remember to bring along your child's Stems Journal. These
are a useful communication tool for sharing daily entries about your
child's day, care routines, happenings and up-coming events).