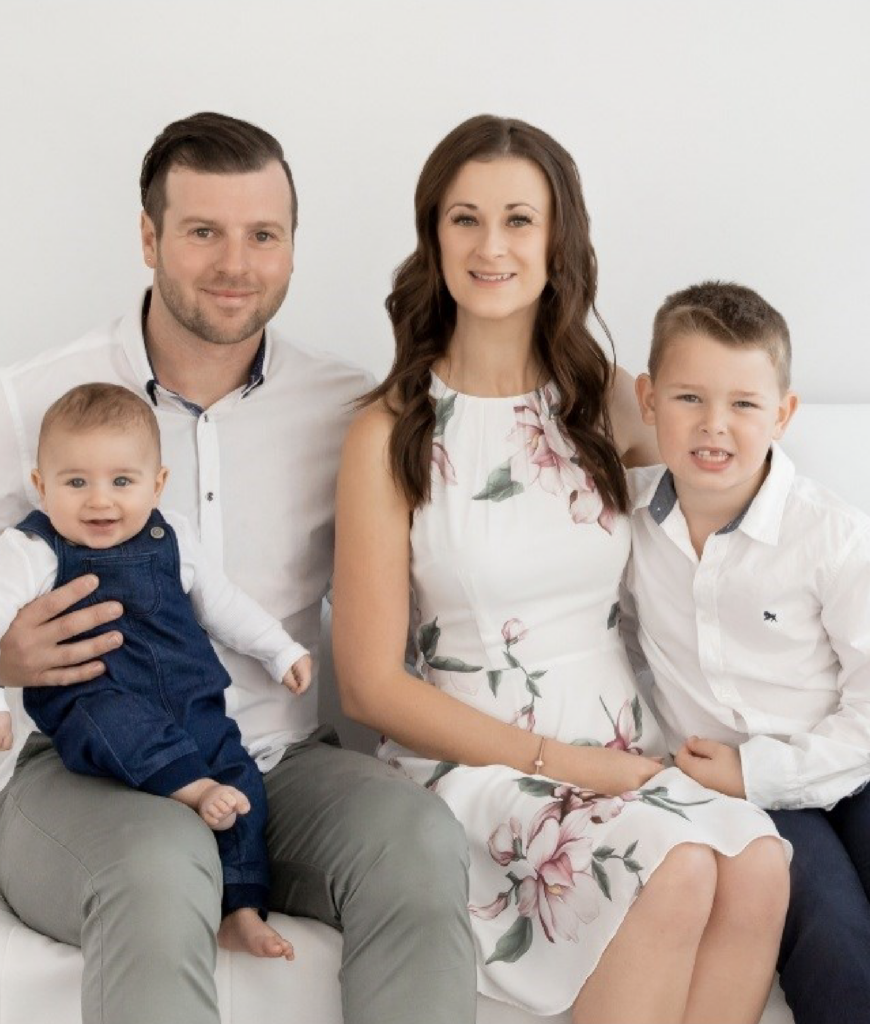 Want to find out more about Lauren?
Give us a bell:
Hi my name is Lauren and I am mum to two boys, Luca and Beau. My partner Geoff and I have recently brought our first home and we all live together as a family of four. We also have a small dog Billie who although shy loves attention.
I am a qualified early childhood teacher and I have taught in preschool environments for the last 12 years. After the birth of my second baby boy Beau I made the decision to work and educate from home, allowing me to spend more time with my family while also doing the work I love.
I enjoy being outdoors in the sunshine, often going for walks, particularly down the road to feed the ducks. As a family we like to head to the park to kick a ball, ride bikes and fly kites. In my spare time I can be found listening to music, enjoying a good coffee, baking, catching up with family and friends and playing with my eldest son Luca.
As an educator I believe it is important to provide a safe and welcoming environment which is inclusive of all families. With my background of working with under two year olds I understand how important routines are and strive to follow individual routines from home. Through both observation and interaction I will get to know and understand interests of the children and aspirations parents have for them.
Over my years of teaching I have established a large resource kit. Within my home I provide a range of resources where the children have free access and I often rotate these resources to encourage continuous exploration and curiosity.
With a duck pond, library, park and bike track all within walking distance the play possibilities and adventures are endless. Low ratio numbers mean quality one on one care and support as your child strives to reach their full potential.
Watching children's creativity is amazing and this supports me in providing for growing interests and urges while also being able to challenge children to unfold new skills and strengthen confidence.
My home is warm, inviting and secure, and provides easy indoor outdoor flow. I love to offer sensory play experiences including water, flour, gloop, sand and ice.
Stems FROM HOME Programme
Stems FROM HOME run a varied weekly programme that all of our Educators and whānau are welcome to attend. This includes;
Playgroup, Little Explorers (outdoor experiences and outings), Little Splashers swimming lesson in summer terms and Mini-Gym in winter terms. Our Playgroup sessions include regular children's yoga experiences, and also visits from Siu and Leah from Loopy Tunes Preschool Music. All information is shared in our term flyer.
* First Aid/Civil Defence Kit * Cot/bed * Highchair * Car seats
* Personal linen and hand towels
* A quiet home environment, in which children are able to have really good naps (if needed). If your child has a dummy or security object for sleep time, please send these inside their bag.
* Programme planning and monthly learning stories about your child's individual learning and development, by using Educa (online portfolios).
* A change of clothes as we like to fully experience everything we do!
* A hat and sunblock in summertime. Please apply sun block to your child in the morning and I will reapply during the day.
* Gumboots and a raincoat for the rainy months
* Sufficient nappies, wipes/cream, bibs, and feeding bottles
* A healthy packed lunchbox and a water bottle
Please remember to bring along your child's Stems Journal. These are a useful communication tool for sharing daily entries about your child's day, care routines, happenings and up-coming events).